Auf dieser Seite werden aktuelle Vorträge etc. von Prof. Dr. Thomas Foken angezeigt.
Vorträge
Klimawandel in Oberfranken am 10. März 2017, 19:00-20:30, vhs-Bamberg-Land in Memmelsdorf-Laubend
Die seit Beginn der Industrialisierung einsetzende globale Erwärmung ist nachweislich anthropogenen Ursprungs und die weitere Emission von Treibhausgasen wird diesen Prozess verstärken. Neben der Erläuterung der physikalischen Ursachen und der weltweiten Auswirkungen wird besonders auf die auch in Oberfranken deutlich erkennbaren Anzeichen und zukünftige Entwicklungen im Vortrag eingegangen. Politisch wird angestrebt, die Erwärmung nicht über 2 Grad gegenüber dem vorindustriellen Niveau ansteigen zu lassen. Im Vortrag wird aufgezeigt, wie dieses Ziel in Oberfranken erreicht und wie Vorsorge gegen die Auswirkungen des schon eingesetzten Klimawandels getroffen werden kann.
>>Link...
Bücher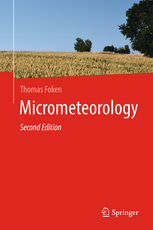 Neuerscheinung
Micrometeorology
Thomas Foken
Springer 2017, 2nd edition, XXI, 362 p., 90,94 € (D)
The book focusses on atmospheric processes, which directly affect human environments within the lowest 100–1000 meters of the atmosphere over regions of only a few kilometres in extent. The book is the translation into English of the third edition of the German book "Applied Meteorology – Micrometeorological Methods". It presents, with selected examples, the basics of micrometeorology applied to disciplines such as biometeorology, agrometeorology, hydrometeorology, technical meteorology, environmental meteorology, and biogeosciences.
>>Link...
---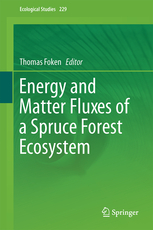 Neuerscheinung März 2017
Energy and Matter Fluxes of a Spruce Forest Ecosystem

Edited by Thomas Foken
Springer 2017, XV, 532 p, 181,89 € (D)
Scientific results obtained over the last 20 years at the FLUXNET site DE-Bay (Waldstein-Weidenbrunnen) are shown together with methods developed at the site, including the application of footprint models for data-quality analysis, the coupling between the trunk space and the atmosphere, the importance of the Damköhler number for trace gas studies, and the turbulent conditions at a forest edge.
>>Link...